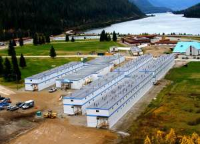 We work closely with aboriginal businesses
BC Hydro is committed to the advancement of economic opportunities for aboriginal businesses. We do it through contracting and procurement, an Aboriginal Business Directory and through energy acquisition.
Left: Members of the Secwepemc (Shuswap) Nation helped build and now operate the Mica Camp, known as Kinbasket Lake Lodge.

Aboriginal contracting and procurement
We have a role to play in working with B.C.'s aboriginal people to achieve economic success. As a large resource-based company with operations across this province, we are hiring contractors and suppliers to meet our capital and operating business requirements.
BC Hydro wants to ensure that some of our contractors and suppliers are aboriginal businesses and individuals. To achieve this goal, BC Hydro has created the Aboriginal Procurement Policy.
This policy provides BC Hydro the ability to use a number of procurement practices to support Aboriginal business opportunities.
For more information, see Aboriginal Procurement.
A few examples of our work with aboriginal businesses
The Sexqeltkemc of the Secwepemc (Shuswap) Nation developed temporary construction camps for approximately 400 employees as part of BC Hydro's Mica Units 5 & 6 upgrade project. Currently approximately 25 Aboriginal persons (mainly members of the Lakes Division) are employed at the camp performing services, such as catering, housekeeping, grounds and facility maintenance. It is one of the largest contracts ever awarded by BC Hydro to a First Nations joint venture.
Aboriginal employees from the Mowachaht/Muchalaht First Nation, near Gold River, worked on the project to decommission BC Hydro's old Heber dam and return the site to its natural state. Aboriginal employees accounted for 5000 plus hours of the contractor's on-site workforce – at times up to 40 per cent – in roles ranging from excavator operator to administration and community liaison.
Allan Bolton of the Kitsumkalum First Nation prepares for some environmental work on the Northwest Transmission Line (NTL) project.